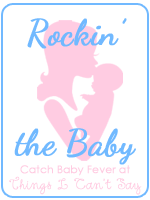 Shell at Things I can't Say
, is hosting this baby linkup tomorrow (I'm posting early)! Stop by to join in! She wants us to link up our favourite baby pictures!
Now, I don't have trouble choosing favourites out of my stack of baby photos of Ollie. I actually have trouble trying not to pick too many! Every single photo of Ollie as a baby brings back memories of that whole day. It reminds me of little things I have forgotten, little noises he used to make, how chubby his little cheeks were!
On the day Ollie was born I started Project 365. I took a photo every single day for the first year of his life. I love the collection of 365 photos.... but it also meant I was never short on photos!
I also have a photographer for a father and this came in very handy (and still does!) as we were able to have sets of professional photos done for free!
I took the above photo myself and I love it. I love how you can see his perfect little nose and the newborn fluff on his cheeks. You can tell by his face it is nearly sleep time again.
My dad took this photo and the one below. These photos were taken when Ollie had just turned 1 month old. His eyes are so big and shiny!
Looking at these photos again, brings back so many memories and feelings.... and it makes this pregnancy seem even more real! I'm going to be doing this all again! I can't wait!