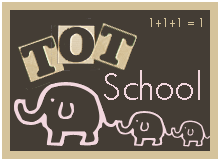 Ollie is 21 months
We didn't really have the best of Tot School weeks this past week. Ollie has not been a happy boy at all. I think he is teething hard on his back molars... the last 4 teeth (thank goodness). He only did a couple of activities themed but did them so half heartedly. The theme for the week was St. Patrick's Day, so we did go to Downpatrick on Wednesday for the parade. He REALLY enjoyed that.
We tried potato printing for the first time. Ollie thought it was hilarious that we were using a food to paint with! His prints came out so well... he started saying "dip dip dip" anytime he had to get more paint on the potato.
We tried size ordering pots of gold. We tried size ordering a few weeks ago and he wasn't interested, thought we would try it again... he lasted longer with it this time but still not overly enthusiastic about it.
He preferred this activity a lot more! I kind of left him to his own devices with this one and he chose to put the coins on the pots himself. He then lifted the paper so they would fall off and he did it again. I picked out the shiniest 2 pence pieces I could find for him.
We took Ollie to the parade in Downpatrick on Wednesday and he really enjoyed it. He LOVED getting his face painted.
So there you have it... not the MOST exciting of weeks, but he seems a little happier now so hopefully next week is a little bit more fun. The theme is going to be "Home and Family".
P.s. You will be able to read all about the St. Patrick's Parade in the next post!